Simple and elegant, these albums come in both linen fabric and leather
Variety of Available Colours
Leather & Linen Cover Options
4 Prints & 10 Prints Options
The archival quality linen in a textured, woven natural fabric with a modern-classic appeal. Also available in baby blue and blush/baby pink covers for your newborns.
The two high quality and premium leather covers will give your album a luxurious finish.
The prints are printed on Epson's Enhanced Matte Paper. A superior media that outputs images that are vivid and vibrant and accentuates shadowy areas, the enhanced matte paper is the perfect solution for museum quality photographic and fine art works.
Album Specification
Acid Free Cream Colour Matt Boards
10 Photographs in each Album
Optional – Cover Text
Large Album Size & Colour

Small Album Size & Colour

Album Size 11.5 x 9.5 inches
Photo Size 9.5 x 7.5 inches
The linen album is available in almond colour
The leather album is available in brown colour only

Album Size 10 x 8 inches
Photo Size 7.5 x 5.5 inches
The linen album cover colour are in shades of beige, grey, blue, and pink
Custom Embossed Cover Text
Personalised photo albums are also sometimes called engraved photo albums and can transform an album into a truly unique piece that will be cherished for years to come.
We offer such personalisation in gold and bronze colours where custom text can be added to the album cover. You may add up to 3 lines of text on the album cover. Options for custom text could include
Child's name & Date of Birth (for newborn)
Parents Name & Due Date (for maternity)
Pepper
Almond
Baby Blue
Baby Pink
Caramel
Burgundy
Custom Covers with Gold Embossing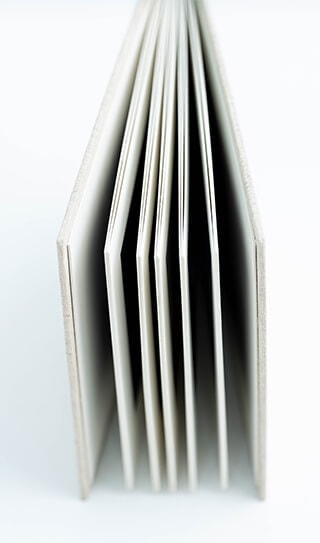 Our album matts are made of 100% acid free, lignin free cotton.
Acidic vs Acid Free Matt Boards
There are two main types of mat material: acidic, and "acid-free". Older mats (wood based paper) are typically acidic, because acid-free paper was not widely available or marketed until recent years.
The difference is important for the long term protection of the piece because acidic mats can cause what is called mat burn, brown marks that creep in from the outside onto the displayed piece itself. While mat burn is sometimes reversible through cleaning the piece, cleaning may not be feasible if the piece was executed in water-soluble inks or paints, such as water color.
Why are acid free matt boards important?
The problem with acid is that it migrates. Once it seeps out of an acid bearing material it can contaminate anything it comes into contact with. Regular mat board is made of wood pulp based paper.  Untreated regular mat board could be a threat to the print it is in contact with. All paper mat board manufactured for picture framing is put through a bath of calcium carbonate to neutralize it against the acidity that occurs when lignin, the binding polymer in wood, breaks down.