Newborn Photography
Bringing a baby into your family is an amazing and awe-inspiring moment. You know that they change daily in those first few days and then continue to change throughout their life. Capturing those once in a lifetime moments and details are what newborn photography is all about. Yes, they grow up fast and you have a very limited time to capture those seemingly unforgettable moments. Preserving those precious memories with a professional newborn photoshoot is a decision that you will never regret.
View our Newborn Packages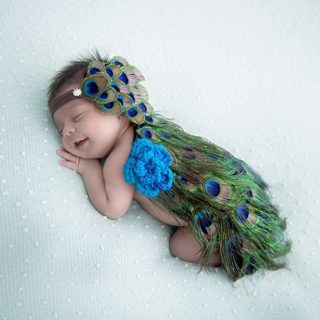 About Our Newborn Studio
We have a plenty of exclusive handmade props and sets that we use for our newborn photography. Almost all of our accessories are ordered from the US and UK. Majority of our accessories are custom & hand made.
We have some amazing facilities to keep your baby safe & comfortable during the shoot. We aim to provide you with one of the best experiences by photographing your newborn first pictures. Our state of the art studio & equipment, and expertise help us deliver nothing but the best.
You can even book a Grow with Me package to trace all the steps of your newborn through wonderful photography sessions capturing your child in nothing but the best light. So book a photo-shoot with us now to experience one of the most interesting and unique newborn studio portrait photography in South Delhi, India.
First Year Baby Milestones
For every parent, first year of the baby is very crucial and exciting. This is the period when the baby starts smiling, laughing, grabbing things, rolling over, crawling, walking and henceforth. The thrill of watching the baby milestones is unexplainable. Hence, it is also important to capture each of these moments and save it for a lifetime.
The First Smile and Laughter
What wouldn't you do to see that first grin? After the first two sleepless and crying months, the baby starts smiling by 2 months in response to you. Days pass by and it gets even better as the baby starts laughing by around 4 months of age. The best part is that you don't have to take much effort to get a smile or giggle back. Aren't these worth a click? Well, definitely! Let's make a silly face, a peek-a-boo or tickle the baby to capture that godly smile as a treasure. This stage is one of the best baby milestones to photograph.
Sleeping All Night
The baby is done with all crying nights; by 4-6 months she is capable of sleeping all night. The innocence can be photographed with a creative background setting as well. The picture would look lovely when it has a sleeping baby in the arms of her mother, or a night set up as the background.
Sitting Up, Crawling and More!
The baby starts sitting up with support by 5 or 6 months, then it becomes steady and without support by 7 or 9 months.  Her favorite toy or doll next to her as she sits up and a click in that pose – wouldn't that be lovely?
By 9 months, she starts crawling. This is an important milestone as the baby learns to move without help; that's worth a click too. As she waves bye-bye at this age, you know she is learning to understand gestures, sounds and meanings. This expression of hers is yet another milestone that has to be captured and treasured all through your life.
Grabbing Objects
By 9-12 months, the baby starts grabbing objects, pops food into mouth and so on. Though the parent has to be a little careful, this period marks her developing better control over her fingers and hands. Lets capture this milestone by letting her grab a soft toy or make her dunk her finger into her baby food and lick it with enthusiasm.
Standing up, Taking the First Step
Another crucial moment in a baby's life is when she stands up briefly without support by 11-12 months. She then starts cruising while holding onto objects, finally taking her first step with no one's help. Each of these deserves to be captured and filed.
The Birthday Party!
The giggles, laughter, cruising and baby steps have now turned a year old and it's time to celebrate. We offer a 'cake smash' session exclusively for your bundle of joy to make her birthday even special.
While taking photographs, you can include innovative and creative photographs of the baby as well, to make the memories even special. As she grows up, these pictures can speak a thousand words to her about a lot of things including your love and warmth towards her. This stage is one of the most memorable baby milestones to photograph.
Reasons to book a Newborn Photo Shoot
Welcoming a new baby into the world is very exciting. When you bring a child into the world you will have a lot of hard work ahead of you. You will feel tired, you will be stressed at times, but it will all have been worth it. After having a new baby your entire family will be as proud as punch. 
Babies do not stay babies for very long. Each passing day your baby is growing up and will start to look a little bigger and a little older. All parents want to remember their children as babies, and with a newborn photo shoot they can. If you photograph a 10 old baby and compare it with a 1 month old baby, the difference is incredible. By booking a newborn photo shoot you can remember how your tiny bundle of joy looks forever.
Taking newborn photos is hard
Another reason to consider a newborn & family photo shoot is that taking photos of newborns is hard. Most people use their mobile phone cameras, and they are just not built for newborns. It takes years of training and experience to pose a newborn. Understanding newborn safety aspects and boundaries are important considerations when photographing a child under 2 weeks of age.
It's a great family bonding experience
Newborn & family photo shoots are great for getting the family together. Some people choose to go with mom, dad, and baby. Other people choose to get other siblings and other family members in the pictures as well. These photo shoots are a whole lot of fun. They're also great bonding experiences as well. If you want to do something nice with the family and bring everybody close together, a newborn photo shoot is perfect.
Newborn Photography Tips
Newborn photography requires a lot of experience. Not just anybody can pick up a camera and take great newborn photos. To be able to properly photograph newborns you need patience, an eye for photography, and, most importantly, knowledge about newborn photography and posing. Just because it's hard however, it doesn't mean it's impossible. If you want to take great pictures of your tiny bundle of joy, here are some newborn photography tips for you to try.
Invest in a good camera
If you want to be able to take great photos, you need the right equipment. Smart phones are not built to be used just as cameras. You don't need to spend a fortune, just do your research. A camera capable of photographing in low light would be ideal.
Find your angle
Taking photos of newborns is often a matter of trial and error. To get great pictures of your newborn, you will need to find the perfect angles that work for you. Get creative and try new things.
Use macro lenses
One reason why people love newborns so much is because of their cute body parts. As a photographer, this is ideal because it gives you something to zoom in on and focus on. For example, you could isolate the nose and zoom in to get super cute pictures. Zooming in with a macro lens is great because it helps to enhance detail that normal lenses would have missed. They also help to add a bit of variety to your pictures.
Always have your camera close by
You never know when something amazing may happen with your baby, so always have your camera close by. Your newborn could smile, give the cutest expressions, and much more. If you have your camera with you at all times, you are far more likely to be able to capture this beautiful moment.
Posing a Newborn
The natural positioning of hands, feet, legs and arms should all look as if the baby itself put them there.  You have to be as gentle and patient as possible when posing a child. There is a lot of knowledge available online; it might be worth your time to go through a few videos or tutorials before you try and pose a newborn
Parents want to be able to "feel" the emotion through the photography and let the pictures tell the story. A newborn photoshoot can be both fun and emotional for the parents.
As the renowned Dr. Seuss has said "Sometimes you will never know the value of a moment, until it becomes a memory."
Newborn Photography – Safety
Babies are adorable with their soft almost satin like skin, their big round tiny bellies. Even the flaky fingers and tiny toes. Each and every square  centimetre of a newborn child is absolute perfection. And everyone especially the baby's parents know this which is why they hire professional photographers to capture their child's perfection in that stage that is the brand new child's life.
The photographers in this profession consider it an honour that they have been chosen to capture a miracle with their cameras. The photographers who work in this specialised niche of newborn photography truly have one of the best jobs in the entire planet as they get to spend hours and hours of time posing, snuggling and pouring love in newborn babies which often are just a very few days or weeks old. Newborn children photographers capture such a fleeting time with their camera. They provide parents with memories that they will treasure till the end of their days.
The photo shoot itself also becomes a fond memory, revisited each time they view the photographs of their precious newborns, and hence an important job which the photographer must complete is creating a safe and loving environment.
One of the major safety considerations for newborn photography is the need to respect the person you are capturing through the lens of your camera. Professional newborn and children's photographers know the ways to safely and aesthetically pose babies for the most breathtaking natural photos. The physiology of a baby requires a gentle hand and a knowledge of movement, also. The safety of the baby should be the utmost priority and patience is the key. The baby takes the leads and the shoot naturally develops itself. Most newborn photographers prefer minimal clothing on newborns but always have something near to clean up. The baby should be the focus of the pictures in the everlasting effects of the photo. Costumes add to the overall theme of the photo shoot but should not take away from the main character- the baby.