Children fill a place in your heart that you never knew was empty
Preserve the unforgettable moments
Time moves at a different pace with kids. The sleepless nights are long, but the birthdays seem too close together. As life gets busier, the moments slip by even faster. We want to capture those precious moments of our children's lives, but things move too quickly. That's why we're here to get those photographs you will cherish for a lifetime.
Capturing that silly face they make, the sparkle in their eyes and their uninhibited giggle
Your CHILD deserves to Truly be SEEN.
Let's Plan Your Big Day!
HOW LONG DOES THE SESSION TAKE
Each theme takes between 40 minutes to an hour. The duration of the session will vary based on the package being taken and the number of themes / set-up's in the package
How will you get the children to co-operate
Our shoots are very child-led and all of our team are very experienced at working with children. Over the years we have developed our own methods and tricks to get children to participate in a session and to express themselves.
How far in advance should I book
Weekday appointments book up about a week to 10 days in advance and for weekends and holidays about 3-4 weeks.
any clothing guidelnines
Clothing is a key element for beautiful, timeless portraits. We love to photograph infants in a cute diaper cover, well-fitting favourite outfit, or a simple onesie.

The child should wear what they are comfortable wearing. If they are not comfortable in their attire, they will not be able to give happy pictures

We love neutrals, creams and soft pastel colours.

If you've added parents portraits, we recommend simple, classic apparel that reflects your style.
WHAT ARE SOME OF THE THINGS I SHOULD GET ALONG?
Besides the clothing and accessories, we recommend that you get your child's favorite toy, special stuffed animal, or any other object that may attract the child's attention.
We also recommend that you get your baby's food along. If s/he is feeding, we do have a private feeding area in our studio.
is there any thing i can do to prepare my child for the session
Make sure the photo shoot is scheduled around your children's nap schedule.  It's best to photograph them when they are rested and during the time when they are most active during the day.

Be ready to giggle, have fun, and let them be themselves! Your children's personalities will be sure to jump out of the photos!
Do you provide kids clothing
View our Children Gallery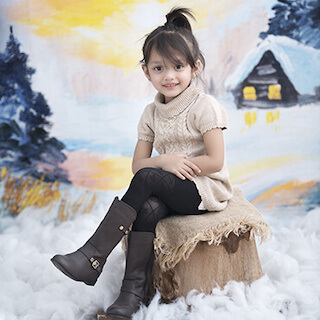 Why opt for Professional Children Photography?
Children by popular belief are the greatest blessings and harbingers of happiness to anyone's life. They make life doubly interesting and give people a sense of purpose and direction; something or someone to live and earn for. They are a true bundle of joy and no one understands their importance than their parents.
The bond that parents share with their children is a special one indeed, and there are wonderful examples of the love parents have for their children scattered in myths, as well as history all over the world. So shouldn't these apples of every parent's eye be caught in proof before they grow up and leave to build their own lives?
Capture the innocence
Children in their toddler years are at their prime. This is the age that they are completely innocent; with no one and nothing from the rest of the world corrupting their thoughts. This is the right time to capture that aspect to guide your memories forever. Professional photographers have the talent and skill to capture this innocence in such a way that they enhance its beauty and purity to make it even more special for the parents.
Walk down memory lane
At some point or other, every child or parent wants to walk back down memory lane. What better way to impress your children than by showing them professionally made photographs of their childhood? These pictures are a sign of love and capture the best year's memories forever.
Improve your memories forever
Memories are funny things. They give us immense joy, but they're not strong enough as to remain with us forever. You can make sure that their happiest memories and stages of life are bound to you forever.
Adorn your home
Who needs a painting when you can have blown up portraits of your children adorning the walls of your home? Large portraits not only enliven the place and fill up the empty canvas of your home's walls, but also make the home more personal and much more beautiful a place to live in.
Your Children Grow up Fast
Be Sure to Capture Portraits that tell the story of their childhood
Child Photography Tips
Parents enjoy every single thing that their children does, especially in their early childhood years. They often wish to capture each and every movement of their kids as once the child grows up, these will be gone. The naughtiness of your kid, the important milestones like the first step, the first teeth, first fall will all be saved.
Child Photography seems fun and to a large extent, if done right, it is. You have to learn how to photograph children as they are never still and they will do things that they want to. You can never force them to pose or smile. You have to take into account their moods and their emotions.
There are a few common mistakes that most parents make, trying to click their kid's pictures. Asking kids to stay still is the first one among the frequently made mistakes. The kid is excited and dressed up for the shoot, but as soon as you ask them to sit silently, the kid looses his/her excitement.
Let your kids enjoy being photographed. Let them play and run. Click them in their activities. You want natural poses and natural pictures with kids. You will get better pictures when kids are relaxed. Let the kids play and run.
"Smile, kids" will never work with children. You do not want your kids fake smile in the pictures.
The solution to this is make your kids laugh. Try to act like a kid so that the kids feel entertained and they laugh naturally. Be funny. Connect with them. Kneel down to be on their level.
Few Important Tips While Choosing Kid's Photographer In Delhi
Photographs of your children are the best memories of their childhood. Photographing your kids frequently will capture each important event of their first few years. You kid's first step, missing tooth, fighting with sibling, cute smiles and awkward moments, birthday parties, are all to be captured to have a diary full of memories of their childhood as they grow up.
Photographing children, however, may not be an easy task. It needs expert hands to click good pictures of kids. For the following reasons choosing a photographer who is specialised in kids photography is very important.
Professional photographers are specialists in dealing with children of all age groups. They can click pictures of your newborn as well as a little elder one. They are experienced in making your children feel comfortable and relaxed; thus getting the best emotions and poses from them.
Professional photographers know the settings and backgrounds to be used for clicking pictures. They will know where your child will be most joyful and they can get those perfect and happy snaps of the kids.
They are well aware of the lights and frames. They know what works best for the picture, what light they need and how to adjust the frame to get that perfect shot. Pictures will not be blurred and shady or will not appear dark if an expert hand clicks them.
They will be patient with your kids. They know the fact that kids will not adjust and pose for them; instead they will have to adjust with the kids to click them. They will make the kids feel relaxed and capture them at their most natural activities and natural facial expressions. You do not want fake smiles of your kids in the pictures.
Photography is the most powerful language that speaks to our emotions. It stays in our heart and then continues to become a legacy of the family. Your kids are special and you can make them realize this by clicking their activities & naughtiness. They will preserve them forever.
Thus, select a photographer who can give you the things you want in them. Select a photographer who's style matches your taste.
Qualities to look for in a Professional Kids Photographer in Delhi
Photographs are for lifetime. People search for professional kids photographers. There are many qualities that make up a professional photographer.
A passion for kids photography is the first aspect of being a good photographer. You must be in love with this genre and needless to say, love kids.
Knowledge comes next. A good photographer must be creative as well as have technical knowledge. Constant education is required in this field to ensure creativity is always taken to the next level
Patience is very important when it comes to children photography. There are times when you have to wail for hours to take that perfect shot. Many aspects of photography requires calm mind and huge amount of patience to click a picture that is priceless.
Creativity – you will either have it or you will not. But if you do have a creative mind, you will be able to visualize and plan new things.
Detail oriented – A good kids photographer must be able to focus on tiny things along with the big picture. You must know when to focus on the tiny detail and when to leave it out.
Seeing things differently is another aspect of a professional kids photographer. A good children photographer notices things that others cannot. Along with seeing things differently, you may also do things differently. Rules are good, but, breaking them may sometimes give you what you want.
Business sense comes after the creative abilities of photography. Being a good photographer only will not make you successful if you do not know how to use your skills to increase your business and saleability. Try to develop ways to promote your photographs and let people know of your work. Then only you can think of being a professional photographer.
Being professional is about how you conduct yourself while working with different clients.
[elfsight_instagram_feed id="10"]