Cake Smash
Its Fun to be One
Celebrating your one year olds cake smash is such a fun and exciting time!
Create Lifelong Memories on your Child's 1st Birthday
Cake Smash Photography captures your baby's unique personality and pure, innocent joy for a series of memorable photos you can look back on and enjoy throughout the years.
It is thought the smashing cake craze probably originated from the Mexican tradition known as "la Morida"! This tradition involves shoving the birthday boy or girl's face into the birthday cake to take the first bite. Mordida is the Spanish word for bribe, but in Mexican slang it means bite. Guests at the party chant "Mordida! Mordida! Mordida!" before the birthday boy or girl's face is plunged into an exceptionally creamy cake!
Cakes are included in all packages. For the types of cakes provided, please refer to the FAQ section on this page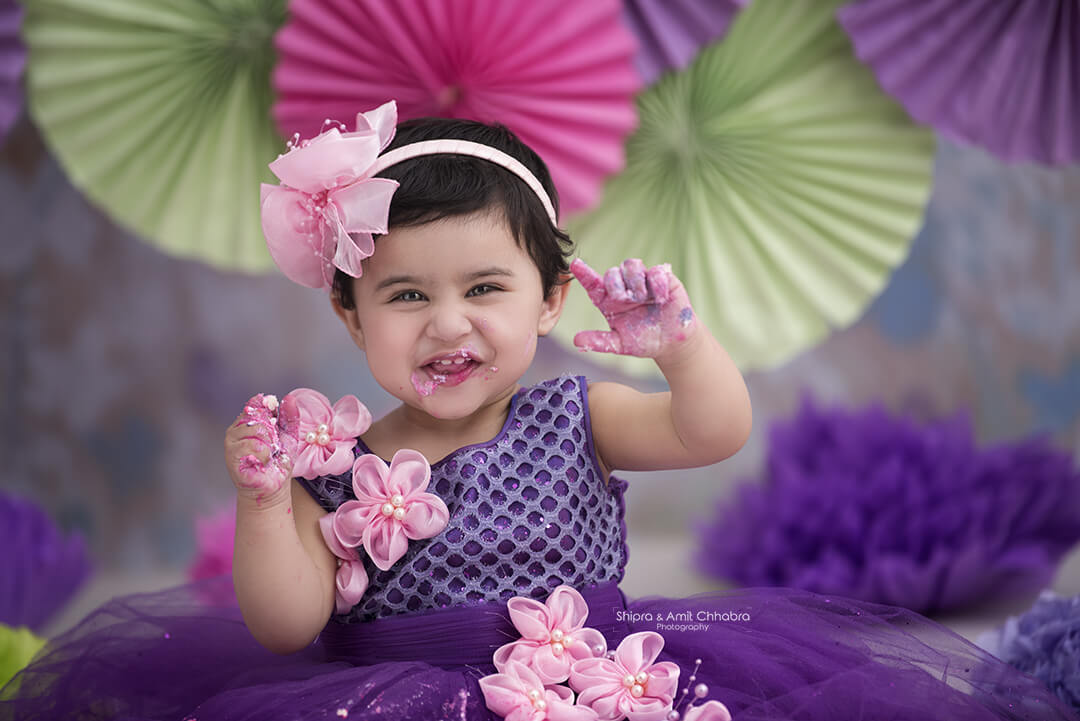 Optional Package Add On's
Add on's are available on top of the packages listed below
Behind The Scenes Shoot Video : Rs. 5,000
Image Showreel : Rs. 3,000
Parents Portraits – Pictures of Parents & Child
Add-on Package #A – Single Costume – 15 digital unedited photographs – Rs. 5,000
Add-on Package #B – Single Costume – Includes Mother's Outfit – 25 digital unedited photographs – 3 Edited Photos – Rs. 10,000
Add-on Package #C – Two Dress Changes – Includes Mother's Outfit – 50 digital unedited photographs – 6 Edited Photos – Rs. 15,000
Prices inclusive of GST
The expressive candid moments as your little one explores the cake, the textures and the taste, are really unique and often surprising
There is nothing more fun than celebrating your baby's first year with a cake smash…
Let's Plan Your Big Day!
DO YOU PROVIDE CLOTHES
No we don't. In all our shoots where the child is over 30 days old the parents get the costumes
WHEN DO I NEED TO BOOK
Ideally, your session will be booked as far in advance as possible as we can be booked up for some weeks, especially if you are hoping to book over a weekend. 

Whilst a cake smash is a first (or second) birthday celebration, you may want to consider booking around the 10.5 – 11 month mark if you are intending to use the images for a party invitation or to display at the party.

Consider your child's best time of day when you schedule their session. 
what are the types of cakes provided in the packages
Basic Package : Giant Cup Cake
Signature Package : Single Tier Cake with Design
Premium Package : 2 tier Cake with Design
Exclusive Package : Two Tier Themed Designed Cake
HOW LONG WILL THE SESSION LAST
The duration of the shoot depends on the package you take.
Usually cake smash sessions take about half an hour and theme based setups take 45 minutes
If you are taking only the cake smash session the shoot time cam be as little as 30 minutes which includes 10 minutes for pre-cake smash and about 20 minutes for cake sm
Who may attend the session
Parents are very welcome to attend the session and the studio will comfortably hold 3 to 4 people. However do bear in mind that children can become distracted by a large audience
what should i bring
Besides the child's costumes, please carry extra diapers and wipes.
Please also carry any accessories you would like to use for the shoot (examples of accessories are headbands, tierras, bow tie, suspender, etc)
Please also carry a towel.
To keep the baby entertained, do carry some toys that the baby enjoys.
What if my child doesn't eat the cake
This does happen. Some children love the cake smash and dig right in.  Others are hesitant.  

We recommend making a cupcake or small cake and introducing the cake smash idea before (a few days/weeks before) our session date.  This way, your child will be familiar with the process and will know that they can smash the cake.  

Also, bring or have on hand puffs or cheerios so we can stuff them into the cake.  Your child will want to grab them out of the cake and eat it. 
is there something i can do to prepare my child for the session
It is a good idea to do a trial run at home a few days before with a cupcake with frosting. Some kids have never had sweets before, or have a hard time feeling dirty or messy. Giving them a chance to experience these sensations for the first time at home can make it easier on the day of the session.
what about colours and themes
The colour and theme are planned based on the clothes that the child will wear for the session.

The cake is designed and ceated in accordance with the colours of the clothes and the theme of the session

If you have any special requirements, please discuss those during the pre-shoot process so that appropriate arrangements
View our Cake Smash Gallery
Making it to 1 is no small task and it's always great to celebrate with a first birthday photo session and cake smash
Cake smash shoots are suitable for 1 year olds & and sometimes even for 2 year olds. Its also a great shoot do to with twins
Prep for the shoot is very simple: pick a cute outfit and accessories and we will design the setup and the cake according to the outfits
Cake Smash Tips
It's important to practice smashing cakes before your little one's session. While it might seem simple to place a cake in front of a baby and have them dig in, they can be shy and uncertain about what's expected. Your little one might be unwilling to touch the cake. If their little hands poke uncertainly at the cake, we can still make the photographs look completely adorable, but for a smoother session, you can practice beforehand.
You don't have to purchase an entire cake for the practice session. Cupcakes are a great substitute for an actual cake. It lets them explore the texture and give the sweets a taste. Some babies are unfamiliar with that much sweetness. They might not like the squishy feel of the frosting between their fingers either. Practicing first will let you know if you should find a cake with less sugar. Cakes topped with whipped cream might be an option. As far as the texture, if they are given a chance to play with the frosting, they'll be more enthusiastic about touching it during the photos.
Cake Smash Photography – It's Fun To be ONE
The Cake Smash photography package will set the promotional tone of the first party of your baby. Now is time to celebrate his first social event, though their won't be too much aware of how special the date is. The cake smash pictures can help the child witness later on their life how much loved and cherished they were, and so do you as the memories of this phase of their lives is so beautiful.
Though this is about the first birthday of your child, the process of capturing this event starts even before the party is settled.
The Cake Smash photography package is a fun concept to make your first baby pictures in an amusing way for the kid. We set the cake, the theme and your baby will have all the fun exploring and discovering it.
This photo shoot is the potential first time your baby will be the star of their own pictures in an artistic and beautiful fashion. We will place him or her in front of the cake and let the pre-party start. All interactions are precious, either your baby destroy the cake with joy or carefully taste it finger nap by finger
Just watch your baby have fun with the cake. Whether they eat it, smash it, sit in it or throw it about its always such good fun. With cake covered fingers and toes those messy little faces are such a joy to capture.
Don't assume they will dive right in
All parents hope that their little one will dive in and make a mess of the cake. That doesn't always happen and that's okay.
Not every child wants to dive right in and make a mess no matter what tricks we try. It's important to know that even if they don't turn their cake into a gooey pile of crumbs, we are still able to catch fun images of them poking at it or daintily picking bits of icing or decorations. Sometimes we may need to strategically place a little icing to help things along, or other times mom or dad may have to get involved in the pictures themselves. It's also a good idea to bring along a favourite toy and some snacks in case your little one needs some encouraging.
Cake smash sessions are the perfect way to celebrate your baby's transition into toddlerhood. Let your child explore, play and make a mess in a relaxed and carefree session, designed to capture the joy that comes with this new stage in life.
If you need to use these images for invitations, It's best to book your child's cake smash 6 weeks prior to their birthday. Depending on the package you choose Cake Smash is usually followed by a Milk Bath
"Celebrating your child's 1st birthday can be a very important occasion. Not only are you celebrating their first milestone, you are marking their last baby days as they grow into childhood. And a great way to capture this milestone in style is with a 'Birthday Cake Smash' Photo session."
Cake Smash Photography
When I set up the photography business in India in end 2013, my aim was to ensure I brought a fresh approach to children portrait photography. The Birthday Cake Smash Photo session is a fantastic way of capturing that 1st birthday in a fun and memorable way. A cake smash photo session is a fun, joyful way to commemorate the milestone of your little one's first birthday. Capture your baby's surprise, curiosity and delight as they tear into their first taste of sugar. A cake smash is a great way to express your baby's unique personality in a relaxed and carefree way.
It's lovely to see how much your little baby has changed over the year. In their cake smash session we present your one year old with a cake and watch them dive in! Although some might need a little more persuading! It is a great messy play for little ones to explore the taste and texture of the cake.
Ideally it's best to book your session for when your little one is around 11 months, as it allows time to have the photos ready before your little ones big day if you wanted to use them for party invitations etc.
We also offer a wide variety of frames, canvases, albums, and memory boxes. All of which can be viewed during your session. These can be purchased alongside any of these packages. Please visit our products page for more information
[elfsight_instagram_feed id="7"]